The Ultimate Combination: Jaco Bachelor Party and the Best In-Home Massage Experience

Planning a bachelor party is no small feat. It requires careful consideration to create an unforgettable experience for the groom-to-be and his closest friends. If you're looking to combine adventure, relaxation, and indulgence, look no further than the vibrant destination of Jaco, Costa Rica, and the luxurious touch of in-home massages. In this article, we'll explore why Jaco is the perfect backdrop for a bachelor party and how incorporating the best in-home massage services can elevate the entire experience to new heights of luxury and rejuvenation.
Jaco: An Exciting Bachelor Party Destination:
Nestled along Costa Rica's Pacific coast, Jaco offers a mix of thrilling activities, stunning beaches, and a vibrant nightlife scene. The town is renowned for its consistent surf breaks, making it a dream destination for water sports enthusiasts. Whether you're a seasoned surfer or a novice looking to catch your first wave, Jaco's warm waters and expert instructors will ensure an unforgettable experience.
Apart from surfing, Jaco offers an array of exciting adventures. You can embark on exhilarating zip-lining tours, ATV rides through lush rainforests, or explore the nearby Manuel Antonio National Park for an up-close encounter with Costa Rica's incredible biodiversity. In the evenings, Jaco comes alive with its energetic bars, clubs, and restaurants, ensuring non-stop entertainment for the bachelor party.
Jaco Vacation Rentals
Luxury Villas: For those seeking the epitome of comfort and luxury, Jaco offers an impressive selection of private villas. These spacious and opulent properties often feature multiple bedrooms, private pools, well-manicured gardens, and breathtaking ocean views. With their high-end amenities and personalized services, luxury villas provide a tranquil retreat where you can relax and unwind in style.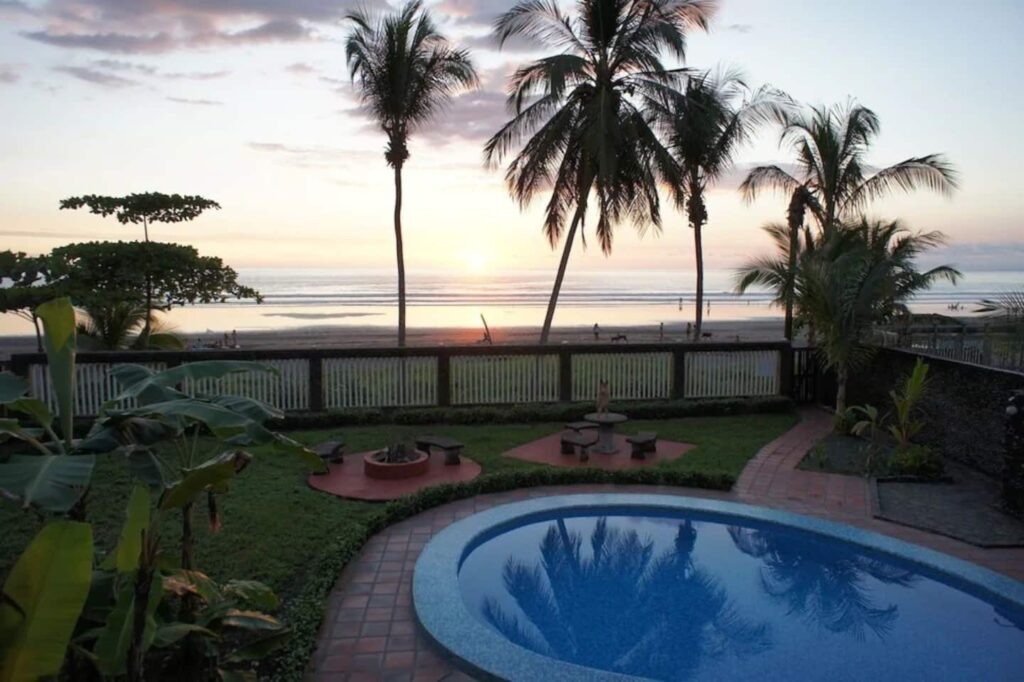 Beachfront Condos: Imagine waking up to the soothing sound of waves crashing against the shore and stepping onto your balcony to witness the stunning sunrise over the Pacific Ocean. Beachfront condos in Jaco offer just that. These modern and stylish accommodations provide direct access to the beach, allowing you to soak up the sun, enjoy water activities, and relish the convenience of having the ocean at your doorstep. Many condos come equipped with fully equipped kitchens, comfortable living spaces, and resort-like amenities such as pools, fitness centers, and concierge services.
Vacation Home Rentals: If you prefer a more homely and intimate experience, vacation home rentals in Jaco are an excellent choice. These properties, ranging from cozy cottages to spacious houses, provide a sense of privacy and the freedom to create your own schedule. With fully equipped kitchens, comfortable living areas, and often a backyard or patio, vacation homes are ideal for those who want to enjoy the comforts of home while exploring the beauty of Jaco. More vacation rentals here https://jacocasa.com/properties/
The In-Home Massage Experience:
While the days may be filled with exhilarating activities, balancing the adventure with moments of relaxation and pampering is crucial. That's where in-home massage services come into play. Instead of having to travel to a spa or wellness center, professional massage therapists can come directly to your rented accommodation, bringing the spa experience to you.
In-home massages offer a range of benefits beyond convenience. First and foremost, they provide the ultimate relaxation in the comfort and privacy of your own space. You and your bachelor party attendees can unwind, destress, and let go of any tension accumulated from the day's activities. Skilled massage therapists will tailor the treatments to each person's preferences, ensuring a personalized experience for everyone.
Choosing the Best In-Home Massage Services:
To make your Jaco bachelor party truly extraordinary, it's important to select the best in-home massage service available. Here are a few key considerations when making your choice:
Reputation and Experience: Look for a reputable and well-established massage service that specializes in in-home treatments. Check online reviews and testimonials to gauge their reliability and professionalism.
Massage Modalities: Ensure the service offers a wide range of massage techniques, including Swedish, deep tissue, sports, and hot stone massages. This way, each member of the bachelor party can select their preferred style.
Certified and Skilled Therapists: Verify that the massage therapists are licensed professionals with proper training and experience in delivering high-quality massages.
Customization and Additional Services: Choose a service that allows customization and provides additional amenities like aromatherapy, music therapy, or even couples' massages for those bringing their partners along.
Conclusion:
Combining the exhilaration of a Jaco bachelor party with the luxury and relaxation of in-home massages is a winning formula for an unforgettable experience. The diverse range of activities and vibrant nightlife in Jaco, coupled with the convenience and indulgence of in-home massage services, create the perfect balance of adventure and rejuvenation. So, gather your friends, plan your Jaco adventure, and prepare to be pampered in the comfort of your own space—because this combination is bound to make the bachelor party a truly remarkable and cherished memory for the groom-to-be and his closest friends.